History
GONZO the Grizzly Goat was born in Eleven Mile Canyon near Lake George Colorado in 2011. At 25, I was new to rock climbing. Having grown up in Iowa before the modern popularity of climbing, I wasn't all that aware the sport even existed. Matt, a former MMA fighter, standing 6.6 and 240 pounds of muscle, introduced me to climbing at the local climbing gym in Des Moines, IA. Neither of us were particularly talented, but we made up for our mediocrity with ferocious spirit and a general lack of self-awareness. I vividly recall with significant embarrassment, Matt and I with our shirts off, grunting and raging on a top-rope 5.9 in the corner of the gym. Yes, we were those guys. We fell, cursed, flailed, and fell again, neither of us making it to the top.
A few months later, Matt pitched the idea of a road trip, and I said yes before he finished his sentence. The whole way, we told stories that were bigger than the truth and blasted the Avett Brothers at the top of our lungs. We drove 16 hours through the night with all of the gear we could beg borrow or steal, barely enough money for gas, and ambitious hearts big enough to make up the difference. Somewhere before dawn on the 15th hour of our drive, Matt and I paid our toll to enter the gates of Eleven Mile Canyon. We drove forward as the sun slowly rose over the horizon, catching the jagged granite cliffs and setting them ablaze. The river slithered golden beside the highway that carried us towards destinations we could not possibly fathom.
The arrangement was that Matt was going to teach me to rock climb and I was going to teach him how to fly fish. As it turned out, neither of us knew how to do either. We pitched our tents deep in Forest Service Land, far away from the fees and tourists. The first day, we caught no fish. The owner of the fly shop laughed at us when we showed him what we were using. Even after spending way too much money as the fly shop owner pointed only to the full bins of flies, we proved no match for the finicky Colorado browns and rainbows. We worked like dogs up and down the river. The few hits we did manage to get were over before they began. 6X tippet and size 18 flies surpassed our fumbling ability to tie the various knots of the nymph rig the crusty old fly shop owner showed us.
On the fourth day of our trip, after countless hours of fruitless fishing, we decided we were going to catch our dinner one way or the other. An old guide named Hot Dog taught me a trick using corn on the White River in Arkansas. Hot Dog failed to mention that this trick, chumming, was only legal in Arkansas. A can of corn later, Matt and I were smoking buttered Cajun trout in tinfoil beside our fire, grinning from ear to ear.
I do not recommend learning to fish this way!
Our climbing was not much better. At the local climbing shop, the climbing guide laughed at us also. Equipped with a static rope and four quick draws, we set out in spite of his mocking concern. Because of the geography of the canyon, there were no top-rope climbs to be had, and the vast majority of the climbs involved ten quick-draws or more before the anchor. Undeterred, we ascended the scree field to the base of the climbing. Looking at the guidebook sideways, we found what we thought was the easiest and shortest climb in the book. Obviously, we took our shirts off. Matt lead his four quick-draws, clipping the inflexible rope that certainly would have snapped his back if he'd fallen, and then lowered to the ground. I climbed behind him, grunting and screaming like Chris Sharma, cleaning Matt's first three quick-draws, leaving the fourth, and extending the climb three more until, exhausted, scared, and shaking, I reached the anchor with only the locking carabiner from my belay device. After doing a number of very unsafe things, I bellowed like Alexander the Great, having reached the top of my first outdoor lead.
I do not recommend learning to climb outdoors this way!
On our last day at Eleven Mile, we hiked to the top of the tallest mountain hanging over the canyon and stood, laughing and cheering, gazing out over the endless mountains that rolled across Colorado. On the hike down, Matt coined the phrase a 'Grizzly Goat,' as a description of who we had become. A Grizzly Goat, he explained is a mythical creature that both climbs mountains like a goat and fishes like a bear. GONZO was born. We stayed in Eleven Mile for a total of five days before heading out and driving all around Colorado, climbing at Bob's Rock, fishing the Hog Trough, and going on a late-night excursion to what was definitely either a commune or a cult with a hippy named Greg we met at the cheapest Hot Springs in town.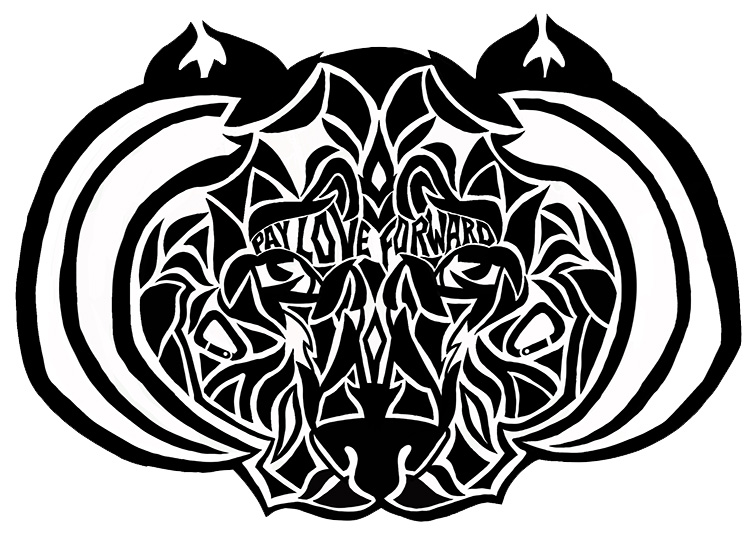 Over the course of the trip, Matt and I talked and dreamed constantly, carried forward by the ecstasy of our discovery. Much of our ongoing dialogue centered on our mutual desire to help and to share what we found with others. Matt and I both struggled with significant mental health challenges growing up, and we instantly knew we found something sacred that would forever change us both. We had to share what we discovered with other young people struggling in the same ways we did. Although we didn't know it at the time, we were creating the vision of Pay Climbing Forward and Pay Love Forward.
Many years have passed since our first adventure. I am a little better at climbing, and have even managed to scrape my way up El Cap and Half Dome in Yosemite Valley. I was a fly-fishing guide on the Big Horn, and have learned to catch even the finicky ones in Colorado. In both climbing and fishing, I find as much energy and passion sharing what I have discovered with others. Since marrying my beautiful wife Kylie, a doctor here in Billings, giving birth to our second child Gentry, and trying to keep up with the boundless adventurous spirit of our first child Huxley, the vision Matt and I first dreamed hanging off the cliffs of Eleven Mile Canyon, is being realized. Matt and I found our bliss somewhere outside of our comfort zone and the limits of what we understood as possible. At Pay Love Forward, we are dedicated to helping others find their bliss.
GONZO